Barn Report Pro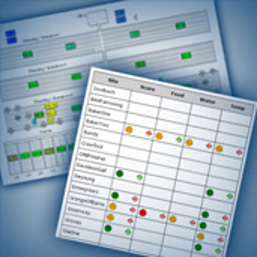 Barn Report Pro is the first environmental monitoring tool with both alerts and a check-point/tracking system, stopping small problems from becoming big ones.
Our technology immediately flags changes in off-site water levels, feed consumption activity, temperature variations and other systems – changes you or your employees might not notice right away. We then notify the right people, via voice, text messaging or email. An accountability report is also built right in to the system, giving you peace of mind that the problem has been fixed, and by the appropriate individuals.
Our customized solutions can be used in conjunction with Dicam controllers, or as a monitoring device with any existing brand of control systems. You decide what's best for your site.
With Barn Report Pro, you'll have:
Alarm notification with accountability features
People tracking capabilities
Real-time site monitoring
A monitoring feature can complements your existing control system
Weather reports
and more…
Barn Report Pro is simple. It operates in the background. No one wants the 'boss' to know their failures. It's not substantially changeable at the site location.
Barn Report Pro Demo